viernes, 19 de julio de 2019 | 11.49
Contenido
Global Agency: big launch of Magnificent Century Kosem
2015.10.26 | Global Agency, one of the leading distributors in Turkey, launched Tims Productions' new series at MIPCOM, Magnificent Century Kosem, spin off of the successful historical series sold to over 70 territories worldwide. Prensario interviewed the main characters in Cannes.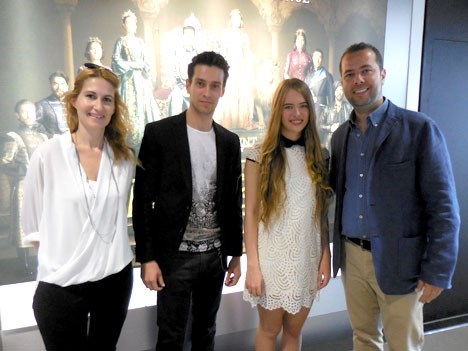 Magnificent Century Kosem is the new production of TIMS Productions -company taht also produced Magnificent Century-, which the leading Turkish channel Star TV will launch in November, though the date hasn't been confirmed yet. For its production, a special set was built on the outskirts of Istanbul, Hadimkoy. 'The construction of the set plus the preproduction and the first episode had an estimated cost of USD 28 million', said to Prensario Timur Savci, CEO and President of TIMS.
Magnificent Century was aired between 2011 and 2014 in Turkey, first on Show TV (2011) and then on Star TV (2012-2014). Global Agency has been the distributor of this title since the beginning and got it licensed in over 70 territories. 'In our catalogue, this is one of the three most sold series worldwide', said Izzet Pinto, CEO of the distribution company.
'It was a huge challenge to be a part of this production, which has the highest quality standards and the best cast that we have worked with in our careers. In our roles, we feel that we've matured as actors and we expect a great performance of the series when it debuts. The expectation of the public is very big", said to Prensario the main characters of the series Anastasia Tsilimpiou , who plays the younger version of Kosem, and Ekin Koc, who plays Sultan Ahmed. In the main role of Kosem in adulthood, we will see Beren Saat, known for her starring in Fatmagul (Kanal D).
Magnificent Century Kosem tells the story of the great love of Sultan Ahmed Khan, a mother of three sultans, loved by the people of Istanbul and considered one of the most powerful women of the Ottoman Empire, the Great Sultana Kosem. Sultan Ahmed, the youngest sultan in the history of the empire, ascended to the throne in 1603, as the war develops in the west with the Austrian Empire, which leads the Ottoman Empire to stagnation.
Kosem is the name of the woman who successfully leads the Ottoman Empire for 40 years; she will protect the dynasty and gain the love and sympathy of the public, who will consider her a symbol of power and magnificence.
Regarding formats, Izzet Pinto announced the sale of a second and third season of talent show Keep Your Light Shining to TV Globo (Brazil), which since 2016 and like the first season will be part of Domingão do Faustão, show that the Brazilian broadcaster airs since 1989. Keep Your Light Shining already has versions in Germany, Ukraine, China and Thailand, among others.
También te puede interesar