English Section
Kiev Media Week: Ukrainian Content Market gathered 130 buyers
2012.09.27 | Organized by Media Resources Management (MRM), Kiev Media Week was held on September 11th-14th at the Radisson Blu Hotel for the second year, where the Ukrainian Content Market gathered 130 buyers and companies from CIS countries, Europe, Asia, Africa and America.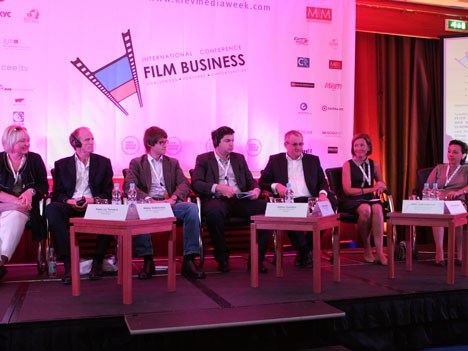 Five major industry events were held: on September 11th, the international conference and screening of new TV formats, Format Show; from September 12th to 14th the international audiovisual content market, Ukrainian Content Market; on September 12th the international B2B conference, Film Business; on September 13th, the international B2B conference, Television as Business; and on September 14th, the international forum, Digital Broadcasting.
Ukrainian Content Market has almost 100% increased and expanded its geography. Leading prodcos attend it with own stads: WeiTMedia, TV Azteca/Comarex, BBC Worldwide, Endemol Group, Cineflix Rights, DRG, Global Agency, ITV Inter Medya, Star Media, Telemundo Internacional and Zodiak, among others.
Format Show conference dedicated to the TV formats offered the newest and popular formats by core international Can't Stop Media, CBS, BBC, Red Arrow International, ATM Gruppa (Poland), Sony Pictures Television and TV3 (Russia).
The Film Business conference has focused its attention on the attraction of funds into filmmaking and coproduction. A special guest of the conference was American film producer Rick McCallum, known for his work on the Star Wars, has shared his experience of working in Hollywood and outside of it: 'Kiev Media Week is a "must go to" event that can help all producers bridge the gap between Western, Central and Eastern Europe', he says.
Television as Business conference has congregated more than 200 representatives of TV-channels, advertising agencies, advertisers, investors and Ukrainian government authorities. Among participants there were representatives from companies of Ukraine, Belarus, Moldova, Bulgaria, Kazakhstan, UK, France, Belgium and USA. The conference was dedicated to industry regulation, competition in it and among platforms, innovations, sponsorship, thematic channels' development and new media.
Forum program consisted of a number of special events: on September 11th, Ideas Pitching project by 1+1 Media, whose TV channel 1+1 would produce a pilot episode based on the TV show concept of the winner. On September 14th, the International Emmy Awards 2012 Judging Semi-Final in the category "TV movie/mini-series'". The semi-final works selected in Kiev would be preceded to the final round of judging. The final-winners would be awarded at the 40th International Emmy Awards in New York. And on September 8th, Kiev Media Week has become a partner of the 10th international conference on Computer Graphics CG Event Euro 2012.
Más leidas en English Section